Last week, my father-in-law, C. (Charles) Cabot Easton passed away at the age of 90. He struggled through a lengthy illness and was cared for in his last few weeks by family and hospice staff near Andover, Massachusetts, where he lived for 50 years. He is survived by his wife of 59 years, his son, two daughters and six grandchildren.
Cabot ("Dad" as I used to call him) was one of the warmest and kindest people I have ever known. In the 25 years I was his daughter-in-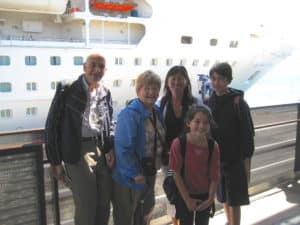 law, he always greeted me with a sun-tanned smile and a big bear hug, wrapping me into his tall 6'3" frame. Even though we lived 3,000 miles apart, I always felt a kinship with him. We spent part of every summer together at the family's lakeside cottage in Maine. When Cabot and I had a moment alone together away from the chatter of young cousins playing, he would remember something we had discussed the previous summer and ask me about it like it was just yesterday. He would nod his head for the whole time I talked as if it was the most interesting thing in the world that I volunteered at my children's schools, that we were planning a trip to the Grand Canyon, and that I planned to write a book about my family. "Oh really? Is that so? That's fantastic!" He was incredibly easy to talk to and a gifted listener.
One of my fondest memories is our conversations about fundraising. Cabot's career was centered around educational fundraising for Harvard Law School and other universities. I was on the board of the parents' association at my children's schools and several non-profits in my community. When I needed help with a 10th year anniversary campaign for a local theater, Cabot gave me some great advice. He said "you have to dig a lot of holes" when you are trying to raise money, and you have to "have fun." I recently found the notes of our discussion and the handouts he gave me that June day eight years ago, and I will cherish them forever.
Cabot was an inspiration to me in many respects, but the thing that is most dear to me was how he treated my mother-in-law. He held her hand, opened the door for her, and helped her however he could.  "Ruby, is there anything I can do?" he always used to say, willing to do whatever was asked. Cabot would fetch the meat from the garage refrigerator, take the platter down from the top shelf, or make the bed. Whatever it was, he did from his heart. Even when he was ill and lost the ability to recognize familiar things, he always knew that his wife was nearby and reached out for her hand. I hope my marriage will be as strong after 59 years.
My father-in-law was a loving husband, father, grandfather and human being. I will miss him very much.
Last year, I posted a story about Cabot and my father called Ode to My Fathers. I wrote:  "My father-in-law's legacy is that he is open-minded and inclusive. His wider perspective on the world meant that he accepted me as a daughter-in-law immediately. He is kind, funny, and always makes me feel at home. His career was in fundraising for educational institutions, so making others (especially me) feel comfortable and welcome came second nature to him.  He has taught me to enjoy life everyday, show people you care, and seek sunshine wherever I go!"
I will try my best to honor Cabot's legacy. Thank you for reading.