I am thrilled to announce that I just signed a two-book deal with Lake Union, an imprint of Amazon Publishing! I made it to the Book Deals page of this week's Publisher's Weekly!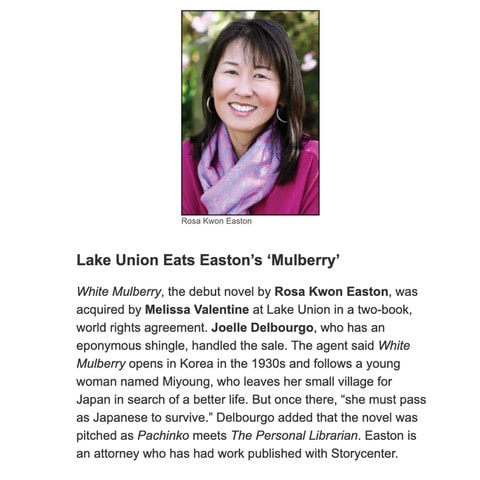 …along with Dame Judi Dench!  Here's the web link.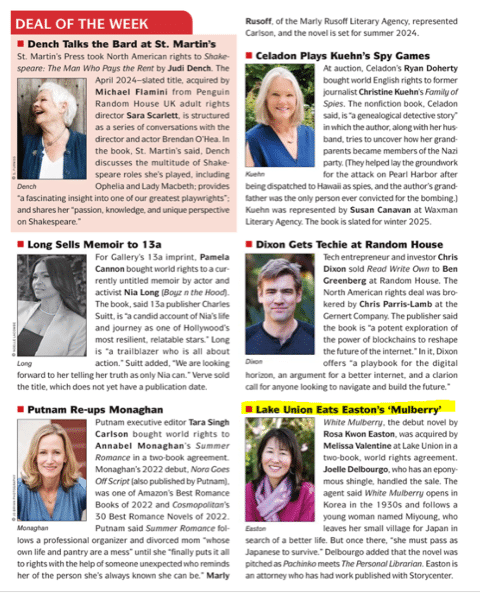 And here is the announcement on Publishers Marketplace.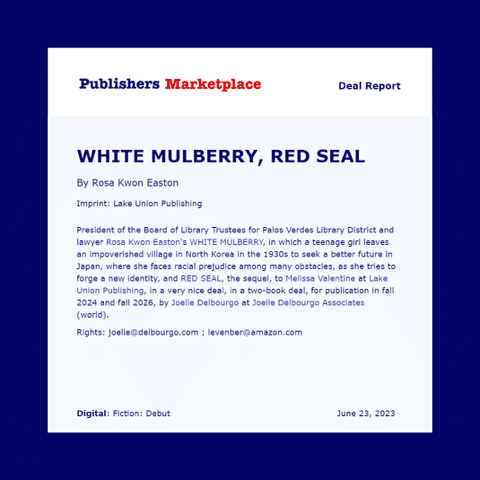 I can't wait for you to read my historical novel when it comes out in Fall 2024. More to come on my second novel soon! Check out Amazon Publishing here.
It's been a full week! I received the news while I was at the American Library Association Conference in Chicago as Library Trustee. It was the perfect place to receive the news—while standing up for our right to read! My writing friends from Chicago helped me celebrate.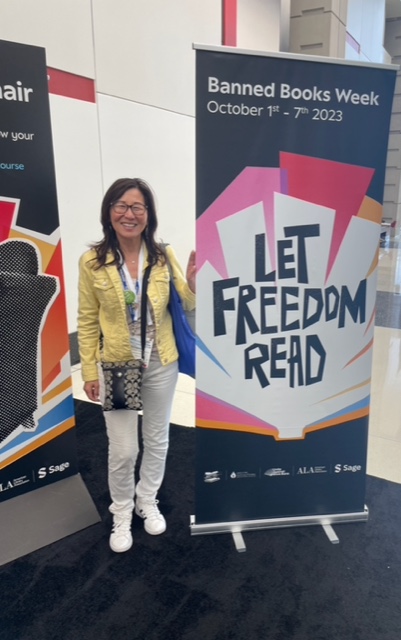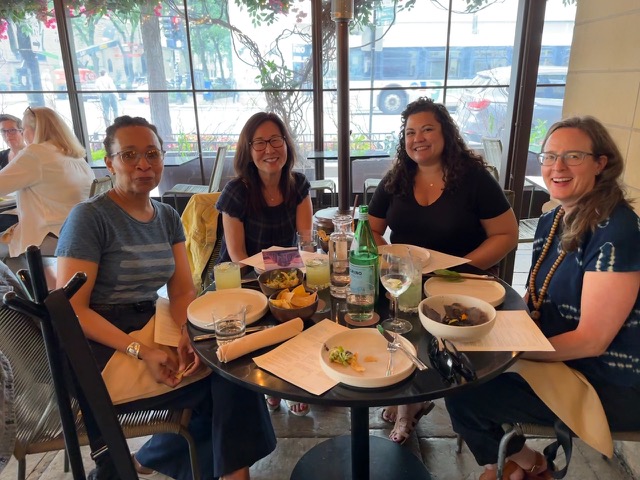 Here I am at my writing desk. It's been almost a decade since I started writing this novel. I think I've been thinking of this moment since I was a little girl!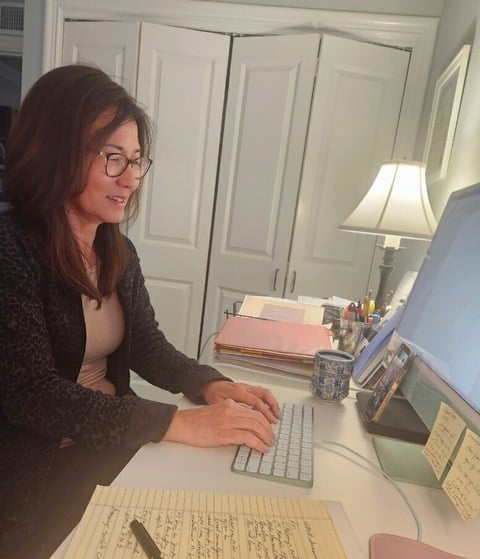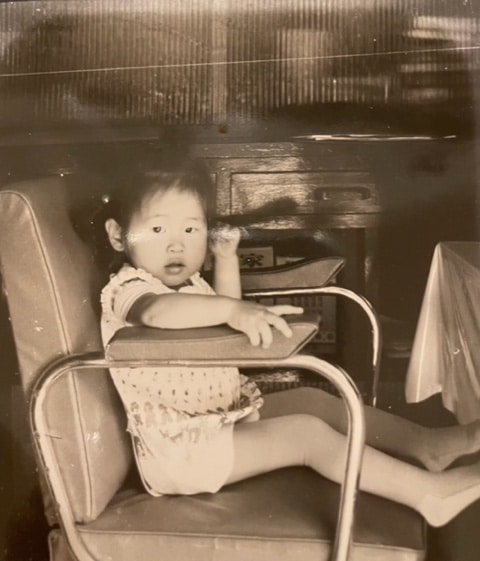 So it Begins . . .
My publishing journey began in May but I couldn't talk about the results publicly until now so I'm bursting to share.
"So it begins" is the subject line of an email my fantastic agent Joelle Delbourgo sent to me the first night after she went out on submission to editors at various publishing houses. My heart skipped seeing her message and has been racing ever since. She said that an editor thought my book sounded fascinating and couldn't wait to dive in! That was the day after Mother's Day.
Speaking of my agent Joelle, I actually have to begin with her because she jump-started everything. I signed with her in January, and we worked together to get my novel and mini-book proposal in top shape to submit to editors. These are photos of my completed manuscript and the tower of research books in my office that I shared previously. You can read that post here where I talk about my agent and my pre-submission path under "Writing Update."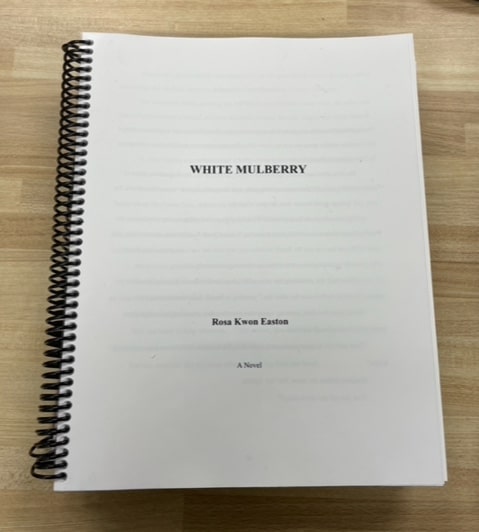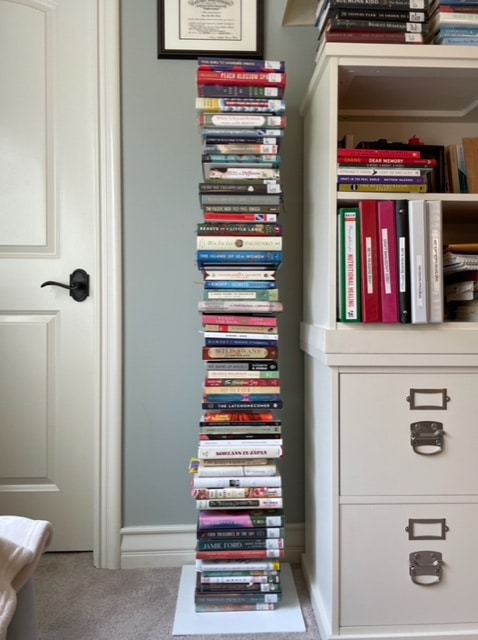 Fast forward to the Monday after Mother's Day, when I received the auspicious email from Joelle that an editor was interested in my book. In the same breath, however, Joelle warned me there's no telling about editor response time. Sometimes it's weeks, sometimes months. I exhaled and braced for a bumpy ride.
My eyes were glued to my email the rest of that week and I couldn't focus on much else. I paid bills, did laundry, and got ready for a long-awaited trip to the East Coast for my college reunion and visit with my daughter. Joelle and I also made plans to meet each other for lunch while I was in NYC. Meanwhile, Joelle sent me updates on the editors she had pitched and the names of those who said they wanted to see more. There was more waiting and taking deep breaths. One of my writer friends asked how I was able to sleep at night. I said I wasn't sure. I was so excited and nervous!
A Second Book?
Joelle called me the following week and said she had some good news. Melissa Valentine, an editor at Lake Union, was interested in my book, as well as my second book—not yet written! Could I draft a short outline for my next book? I was shocked. I had referenced the next book in my book proposal, but never in a million years imagined someone would want to buy my second book too. I almost dropped my phone as I listened to Joelle's eager voice relaying the amazing news. I wanted to jump up and dance.
The next day, on the plane to Boston for my Smith College reunion, I banged away at a draft synopsis of my second novel. I sent it to Joelle and enjoyed a wonderful Memorial Day weekend reunion with my college friends. When the festivities were over, I hitched a ride to NYC with my freshman year roommate to see my daughter who lives in Manhattan. I was also looking forward to having my first in-person meeting with Joelle over lunch later that week.

What Happened in NYC
On the Tuesday after Memorial Day, I was eating lunch with my daughter at an outdoor coffee shop in the East Village when I saw Joelle's number flashing again on my phone. Fingers shaking, I answered the call. Joelle had submitted my next book synopsis to Melissa that morning and Melissa wanted to have a Zoom meeting with me the following day. I shared the exciting news with my daughter, and she congratulated me with a big high five!
The Zoom meeting with Melissa went very well. Melissa said she had gobbled up my book and loved it! I really liked her vision for my book, and her belief in the editorial and marketing teams at Amazon Publishing. Melissa said she would get in touch in the next few days with an offer, and she didn't disappoint.
I will never forget seeing the missed call from Joelle while I was walking in Central Park with my husband, who was in town for work. I called Joelle back, and she told me Lake Union had made a very strong offer. Joelle said "Your dreams are coming true. You'll be able to tell your family's story to the whole world." I hugged my husband, and we cheered that night at Bemelmans, named for the artist behind the beloved Madeline children's book – one of my favorites. It was the perfect place to celebrate.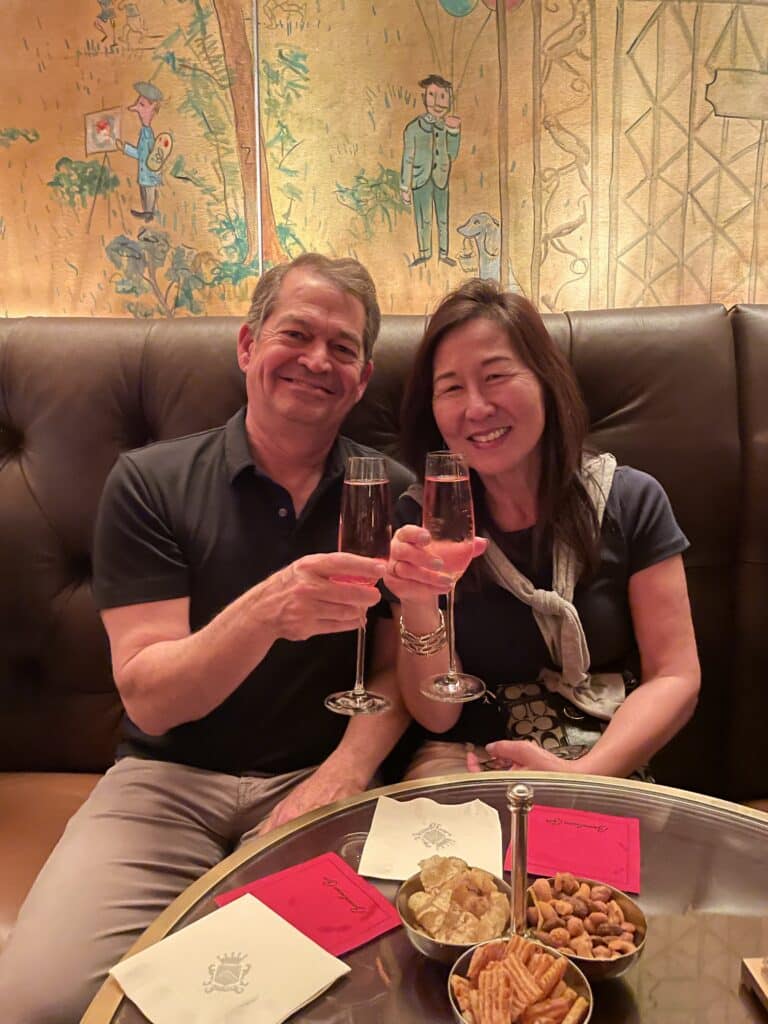 The timing couldn't have been better for my lunch date the next day with Joelle. It was delightful to finally meet her, and we had a great time. Here we are at Yoon Haeundae Galbi in Koreatown enjoying the food and the company. We chatted about business only at the very end.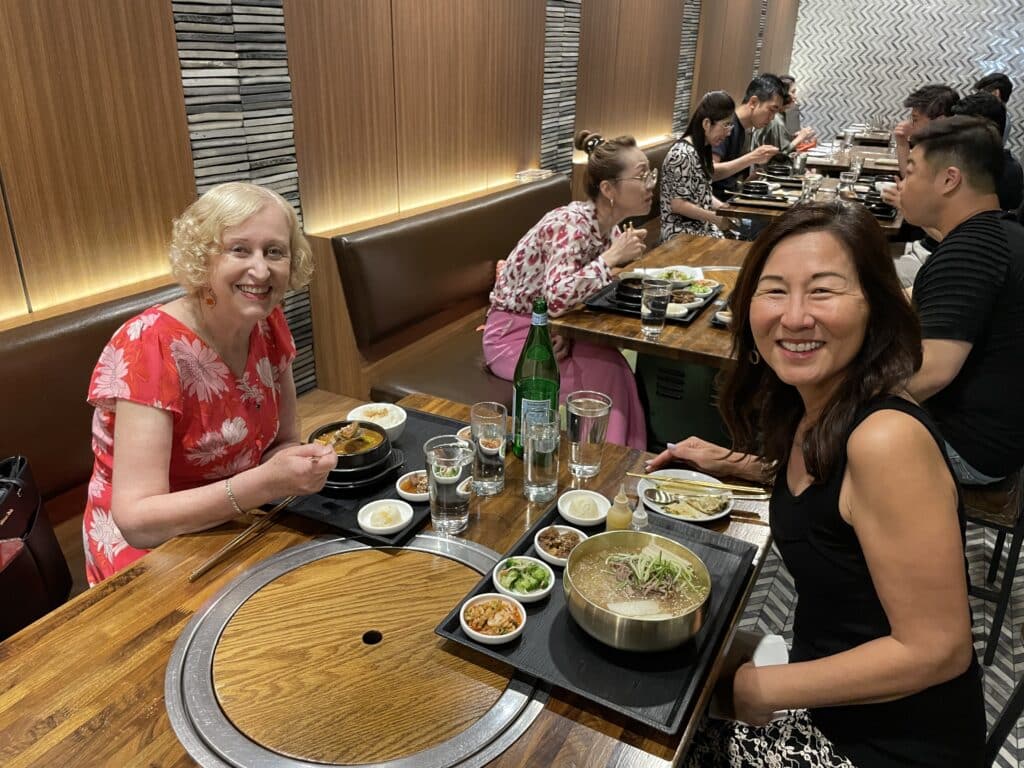 Joelle said she would be following up with the other editors who had expressed interest and would let me know of any additional information that came in. After some back and forth with different publishing houses and Lake Union, we accepted Lake Union's deal the following week. I couldn't be happier! It's a dream come true.
There's a word called "Inyeon" in Korean which means people are destined to cross paths in a meaningful way. I believe Joelle, Melissa and I have inyeon. I think I have it with you too, my readers and supporters. I hope you are moved when you finally read White Mulberry next year. Thank you, thank you, thank you, for being with me on this incredible journey. I feel so grateful and lucky to have you alongside me.
Please share a comment below. I would love to hear from you!
Happy 4th of July!
P.S. Here are some more celebration photos. My daughter, her boyfriend (an artist who drew a possible cover for my book!) and my husband in NYC. Family champagne celebration at home. Dinner with my parents. Flowers from my cousin. Girlfriends (aka the Book Launch Committee). My PV writing group (less one).
---
What I'm Reading
Before and After The Book Deal by Courtney Maum
I think the cover says it all.
Find it at bookshop.org
---
Picture of the Day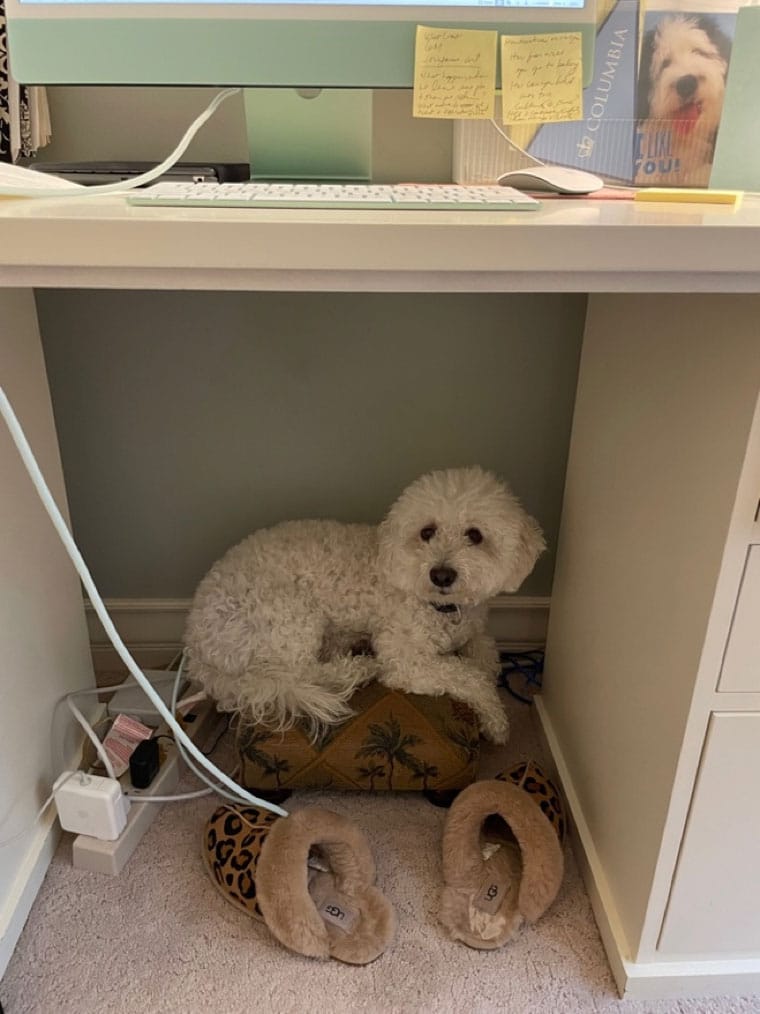 Joey under my desk