"All retreats end with a dance party," said Nami Mun, our writing retreat leader at Ragdale, a spectacular, historic artist community in Lake Forest, Illinois, north of Chicago. After spending five days discussing writing obsessions, reading literature, and putting pen to paper with nine fellow writers from around the country, I was ready to let loose. Most of the others were too, so we boogied to 80s songs (my request) at Ragdale's new dance studio. It was like being in college again, when I was nerdy and carefree, and I loved it.
Two dance songs became ten, then fifteen. Simple Minds, The Clash, Michael Jackson . . . I am obviously obsessed with 80s hits and dancing. Nami joined us, her warm brown eyes sparkling and her long black ponytail swishing to the music. She looked more like a college student herself than a professor at Loyola University Chicago and the author of the national bestseller Miles from Nowhere, a novel about a teenage female runaway, based in part on her own life. Despite Nami's humility and youthfulness, she was the best writing teacher I ever had.
Our Obsessions, Our Conflicts
The dancing released the excitement and energy I had carried all week while Nami guided us through the topic of "obsession." Unlike traditional writing conferences where participants listen passively to craft lectures, we talked, moved, acted, walked, daydreamed and, of course, danced. We answered questions about our childhood and noticed themes and conflicts within them. We walked like our characters, observed their gestures, and found more obsessions. We read short story beginnings and endings and looked for clues to the author's obsessions. Nami challenged us to discover the subjects we keep turning to and harness them to fuel our writing.
Every day, we rolled up our sleeves, picked up our pens, and dove in. We wrote in our rooms, the living room, alone or alongside each other. We wrote before breakfast, after lunch, and in our heads while roaming the prairie, peaked in breathtaking foliage. My fellow writers are talented, funny, and serious about their work, and their determination fed my work too. We bonded over conversations at meals, made with care by Chef Linda, and laughed over ghost-sightings. The magic and mystery of this 100-year-old property inspired us to think, imagine and create. After months of navigating the publishing world and drafting query letters, the retreat was just what I needed to recharge.
TalkShop with Nami
When it was my turn to talk to Nami individually, we walked on the prairie just as the sun was setting. She asked me about my novel and myself. From our frank, hour-long conversation, it became clear I'm obsessed with cultural identity:  the clash between my hopes and ambitions and familial and societal expectations. I saw the parallel between my protagonist's life and mine, and how her struggles as a woman and mother back in the early 20th century still exist today. It was a revelation, and from talking to others after their solo time with Nami, it was clear they had this kind of epiphany too.
I came to the retreat because I wanted to start a new short story and experiment with different points of view. What I came away with was so much more. I met amazing, kind people. I learned to tune into my body and listen actively to people's stories with curiosity and without judgment. I learned to answer uncomfortable personal questions and connect them to themes in my writing. I learned to be honest and vulnerable by sharing my thoughts out loud, and in turn, watch others open up too. At the reading at the end of the retreat, I think we were all shocked at how raw, authentic, and deep our stories were when we tapped into our obsessions and conflicts to generate work, trusting ourselves and each other. I came away nourished and empowered, thanks to Nami and the writers I met at Ragdale.
Be Kind to Yourself
I'm up early most days now—groggy and half-awake—getting words down on the page, no matter how bad they are. I take meandering walks, leaving the critic on my shoulder at home. I read for the joy of it, and avoid "how to" books. I write because I love it, and not because my work will be published. And I listen to 80's dance music, so I can remember my Ragdale days.
I invite you to try an exercise we did at the retreat. We all took turns answering the question "What is a childhood memory that says something about you?" I talked about having to translate for my parents in elementary school when my brother had gotten into a fight at school, and I was only seven and could barely speak English. When I examined why I chose this story, I realized there was a conflict between myself and my parents due to language, my age and what was expected of me, and who I was versus my place in a new country. This helped me start several new short stories.
"What is a childhood memory that says something about you?" Does your answer reveal any conflicts you might want to explore further? Dig deep. Be honest. You might be surprised at how your vulnerability can empower you and help you grow.  Please leave a comment below.
Wishing you a wonderful holiday season,
Rosa
Writing and Library News
I am querying agents for my novel and receiving rejections, although I have gotten some helpful agent feedback. It's a humbling process that many writers go through, so I know I'm not alone. After this retreat, I will trust myself more and reevaluate my writing goals and publishing plans with a fresh eye. In Nami-style, I will ask myself a lot of questions. I won't know all the answers, but I know I have all I need to keep writing.
In other news, I have been appointed to be Trustee of the Palos Verdes Library District and will be serving a four-year term. I have already served three years, mostly during the pandemic, so I'm excited to get out there again and advocate for PVLD in the community. Our library's new mission is "We CONNECT. We INSPIRE. We TRANSFORM. TOGETHER." PVLD has recently eliminated all fines, including for adults, and have programs and events for all age groups and interests. Personally, I am participating in the PVLDWriMo program for the seventh year. Join me in embracing all that libraries have to offer!
What I'm Reading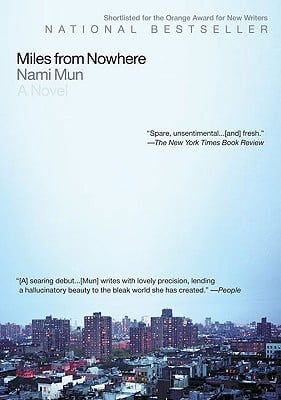 Miles from Nowhere By Nami Mun
Teenage Joon is a Korean immigrant living in the Bronx of the 1980s. Her parents have crumbled under the weight of her father's infidelity; he has left the family, and mental illness has rendered her mother nearly catatonic. So Joon, at the age of thirteen, decides she would be better off on her own, a choice that commences a harrowing and often tragic journey that exposes the painful difficulties of a life lived on the margins. Joon's adolescent years take her from a homeless shelter to an escort club, through struggles with addiction, to jobs selling newspapers and cosmetics, committing petty crimes, and finally toward something resembling hope.
What stayed with me was the ending when Joon, as an adult, returns to her childhood home and asks an old neighbor how her family looked to him back then. The neighbor, without looking up, says "Troubled. Just like everybody else."
Photo of the Day