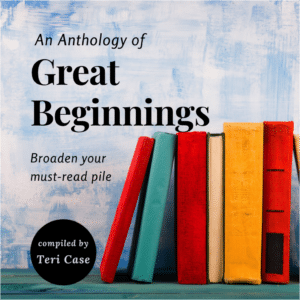 I am very excited to be a contributing author to Great Beginnings: An Anthology. My friend Teri Case compiled the first chapters of more than thirty books by wonderful authors and it is available to download for free. What a great way to find new authors and books to add to your holiday gift list!
Great Beginnings is available on BookFunnel.
I contributed my poem "Mother Who Are You," which introduces my writing and themes in my novel. I wrote a blog about the poem here. These themes include being torn from one country to another and what it means to belong, love and survive.
Although I haven't published my novel yet, Teri suggested I share something that would encourage potential readers to sign up for my blog and follow me on my writing journey. I've already gotten a few new subscribers and readers! A big thank you to Teri for making this happen!
I also want to thank one of the authors in the anthology, Kathy Ramsperger, who did an amazing Story Hour video describing all the books in the anthology.
I am grateful to each and every one of you, my readers and followers, and I hope that the new year is filled with great beginnings. I think we are all ready for one.
As for my new beginning, I will be sending my completed manuscript out to beta readers and editors for evaluation. I finished this latest draft during COVID, and thanks to my family and many supportive writer friends who encouraged me and kept me focused, I am done for now! I'll keep you all posted.
What is your new beginning this coming year?  Leave a comment below.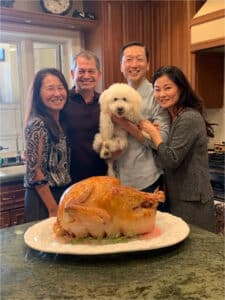 Proud Co-parents with Joey at Thanksgiving
What I'm Reading…
Homegoing byYaa Gyasi
Two half-sisters are born in Ghana in the 18th century, each into different villages, each unaware of the other. One marries an Englishman and the other is sold into slavery. The book follows their descendants over multiple generations. My sister-in-law recommended this to me, and my book club just read it. It was an epic story, beautifully told.