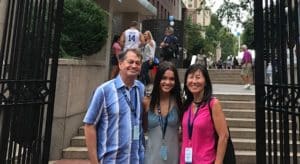 After I dropped my daughter off at college in New York last month, I should have come home to California where I belong. But instead I lingered in the city for a week to see some old college friends and have dinner with my daughter again. I flew north to Maine with my husband to our cottage where we spend summers together with our extended family. I journeyed across the Atlantic to Paris with friends who were also becoming empty-nesters. I returned to the US via New York so I could see my daughter one more time. I did all this so I could delay coming home to the silence of an empty house.
Now that I've been home without children for a few weeks, I know what silence really sounds like:  no backpacks crashing to the floor; no doors slamming shut; no giggling teenage girls watching movies; nothing but stillness and the awareness of my loneliness. The refrigerator hums, a garbage truck rumbles by, and a neighbor's dog barks. What I have been dreading has finally arrived.
I wander by my children's rooms and hear only the hush of beds neatly made and clothes put away. I try to stop the tears from falling but they do anyway. I grab a tissue from my son's old bathroom, and stand in the hallway dabbing my eyes dry. I take a deep breath and feel the great big hole in my heart.
Right now I don't belong anywhere. I have just lost my job. My life is without structure, direction or purpose. I am aimless, adrift and lost. I actively search for new activities that will be challenging and fulfilling. I try to avoid difficult people and situations. I'm settling into a new phase of life that I am anxious about, but at the same time feel excited for. The only routine I have so far is just to show up.
These days I show up a lot at my local public library. I go there to be inspired. I go there to read and write. I plan to take advantage of National Novel Writing Month in November and edit my manuscript in earnest. I also discovered an amazing program at the library's Local History Center, collecting stories as part of the California Listens project run by Berkeley-based StoryCenter.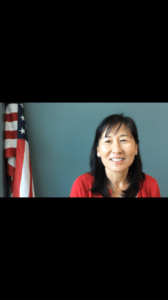 I am volunteering for a Women & Power oral history project, helping record the stories of community members and their relationship to power. From a memory, photo, or object, people tell their stories. What is their first recollection of how they were different because of their sex? Was there a moment when they were challenged by discrimination based on their gender? What did they realize from it and what does it mean? The topic is especially timely and important in light of the #MeToo movement. The recordings will be available to the storyteller, and uploaded to the PV library digital repository and the California State Library archives for future generations.
Through this oral storytelling process, my silence is slowly turning into sound. I'm hearing others' voices, and realizing their stories are not very different from my own. I'm learning about the craft of interviewing and listening. I even recorded my own story about becoming a naturalized citizen and the struggles I had with my name. I would like to share an excerpt of that later with you. If you want your story told, please let me know. Pretty soon we will be able to record it from anywhere.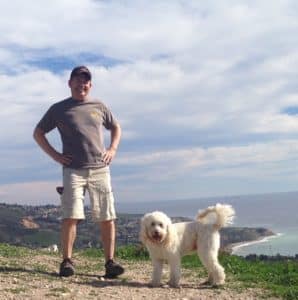 Swish, swish, swish. My dog wags her tail for attention. She wants me to take her for a walk. I perk up for a moment. Someone still needs me and wants me. My husband and I walk our dog along the horse trails near our house. We chuckle about the card we received from our daughter, who asks whether we are having fun without her yet? We feel nostalgic about our son, who is graduating from college soon and possibly moving out of state.
My husband and I have been happily married for 26 years. We hold hands on our walk, like when we first dated. He turns to me and says "See, your nest is not truly empty." I smile and squeeze his hand back. I do belong somewhere.