Happy New Year!
For me, the start of a new year always brings forth a feeling of possibility. I am grateful to have the time to write a little each day. I made it my New Year's Resolution to sit down and touch the keys of my laptop and write something for at least forty-five minutes. Usually it ends up being an hour and thirty, or until I have to stand up, stretch my legs, answer emails, or do whatever it is on my calendar. I try to go to the library in the mornings, but I write wherever and whenever I can. The time is sacred and it's mine. I enjoy the routine, and the pleasure of getting words down on paper everyday.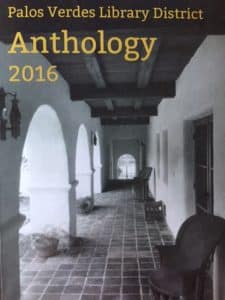 I could not be doing this without the help of Author Accelerator, a writing program that pairs you up with a book coach and keeps you accountable to write ten pages a week. I want to share with you what I have been working on these past months after taking a Story Genius class and deciding to try my hand at a true-life novel. This is an excerpt from my novel-in-progress based on my grandmother's life, and in particular her desperate attempt to obtain train tickets to flee secretly from Japan to Korea with her small son during WWII.
Excerpt of My True-Life Novel
Part of this excerpt was recently published in the Palos Verdes Library District Anthology 2016. You can go and check it out at the PV Library!
            Michiko glanced around furtively and noticed policemen at one end of the station speaking to some soldiers. She avoided them. On the other end she spotted a man dressed in a train employee uniform standing near the platform next to some other passengers. She thought maybe someone who worked at the station would be more successful in getting her a ticket than a random stranger. She approached station employee cautiously and peered up at his face, hoping for kindness. He was an old gentleman with wrinkles marking hard times. He seemed like someone who might be receptive to her story about her ill Japanese officer husband. She skimmed the area again but didn't see anyone else who might be able to help. The station clock chimed. With no time to think further, she took a deep breath and began speaking to the employee.
            "Sumimasen. Excuse me sir," Michiko said in perfect Japanese. "My husband is a Japanese officer serving in Manchuria and he's been injured," blurting out what she had been practicing earlier. "Please sir, I need to bring our son to see him because my husband is gravely ill." She delivered her message flawlessly, saying exactly what she was supposed to say and how she imagined saying it. Her body relaxed slightly. Did she sound persuasive to him?  There was silence. Worried, Michiko stared into his eyes. Maybe he was thinking of turning her in? Instead, he had an expectant look on his face.
            She took this as a cue to continue. Michiko's voice broke and she began crying. Between sobs, she beseeched the station worker. "We need to reach him before he dies. Please, please help me and my son. I have some extra money here for you if you can help me get two open tickets to Shimonoseki. I beg you, please." 
            She bowed her head deeply exposing the neck above her kimono, and rested her hands on her lap, weeping before him. After a brief moment, she looked up to gauge his reaction.
            The man blushed, looking a little embarrassed at her attention. "If your husband has served our country and needs you, I will try to help you. Let me see if I can get the tickets."
            Michiko bowed over and over again. "Thank you, thank you," she said as she handed him the envelope of cash.
            She couldn't believe this was happening. She paced to relieve the anxiety of waiting as she watched the man walking to the ticket office. She saw him talking to the clerk and exchanging some cash for the tickets. Maybe her plan worked! Could these be her tickets to escape? Has her fate been changed today?  The train worker came back and handed her the tickets.
            "Here you go. Good luck with finding your husband."
            Michiko stared at the tickets and then at the gentleman. She was having trouble believing that she actually had the tickets in her hands. "I can't begin to thank you enough. You have changed my life."
            "You're welcome," the man said, nodding his head quickly before he became distracted by a commotion across the way. He turned and blew his whistle to warn someone to back away from the tracks, leaving her standing alone again.
The tickets were fluttering in her shaky hands. "Open ticket to Shimonoseki," they said. She couldn't believe it. "I did it," she mumbled to herself, as if hearing the words would help make it all sink in. She could go to Shimonoseki now. She could begin realizing her dream of returning to her homeland.
            Michiko felt a new sense of calm. She had succeeded in lying successfully and taking the first step toward her goal. It was terrifying but she had survived. She felt more confident in her ability to follow through on her plan. Going home to Korea was no longer a possibility but a reality through her bold actions. She could do this, she thought to herself. She realized she was stronger than she thought. But she still had to get her son. She had to take him from his grandparents. This would involve even more lying. Her problems were just beginning.
I hope you enjoyed the excerpt. Let me know what you think!
Learn more about Author Accelerator, Story Genius, or the PV Anthology by clicking on the links.