When the LA riots broke out on April 29, 1992, I was in Boston finishing my second year of law school. I remember seeing the images on TV of looting, fires, and rioters and feeling terrified. I grew up not too far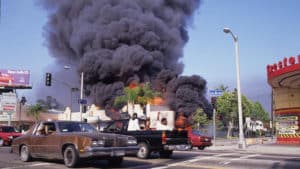 away and my parents ran an accounting and tax business in Koreatown that catered to small, Korean-owned businesses. I called them to see if they were all right. They said they were fine, but many of their clients were not as lucky. Their gas stations, liquor stores and markets in South Central were being vandalized, looted and burned down as we spoke. In the end, many of my parents' clients lost their businesses, their livelihoods, and their hopes for a brighter future.
On the 25th anniversary of the LA riots, I want to remember and honor all the victims of those terrifying five days and those who suffered long after. I want to remember especially those Korean Americans who stood up to the violence at the risk of their own lives, and those who are still healing from the unrest. The riots are often portrayed as a black-white conflict, but Korean Americans were affected deeply as well.
The Courage to Speak Out
A Korean American friend recently told me about her ailing father, who is in his 80's, and how he defended their family liquor store in Compton during the riots. He barricaded himself in the store and wouldn't leave, even to eat or sleep. My friend and her family members had to deliver food and check up on him, at great danger to themselves. He had a gun and was willing to use it to protect his family's business. The police were nowhere to be seen. I don't think my friend's story is uncommon.
An article in the LA Times this week made me think about my friend's father, and about all the other untold stories of the riots. In the article, writer Victoria Kim talks about two Korean Americans who were just kids during that time. Now, as adults, they are giving voice to their experiences. In Justin Chon's case, he recently directed an award-winning movie called "Gook," which explores the unlikely friendship between an African American girl and two Korean brothers running their late father's shoe store in Paramount. For Carol Park, she published a book called "Memoir of a Cashier," which is based on her own childhood working as a cashier in a bulletproof booth at her family's Compton gas station.
The voices of the Korean American community who experienced the riots have not been widely heard. Perhaps the older generation does not want to remember the pain, so they don't like to talk about it. But the younger generation who lived through it and are now adults, are beginning to tell their stories. It is important that these voices be heard, and I am looking forward to watching Chon's movie and reading Park's book.
A friend of mine, poet Tanya Ko Hong, is hosting an event called Remembering the 1992 Los Angeles Riots/Sa I Gu at Beyond Baroque in Venice this Saturday night. I plan to attend and listen to the diverse speakers talk about the impact of the riots on their lives. I admire Tanya for bringing the community together for an evening of poetry, dance and discussion to remember these events, reflect on how communities have healed, and consider what still needs to be done. I hope you can join me.
Where were you on April 29, 1992? What were your memories of the LA riots?
The link to the LA Times article is here. And here are the details for Tanya's event.[/fusion_builder_column][/fusion_builder_row][/fusion_builder_container]