One of the many things I love about the Palos Verdes Peninsula is our awesome library district.
Several times a year the Palos Verdes Library District will host events that encourage residents both young and old to read and to write. I saw this ad on the library blog late last year and jumped at the opportunity to participate:
"Would you like to be published in an anthology?  Please join us for write-ins, workshops, networking with local writers, the opportunity to read your work in public, and the publication of an anthology with a copy going to every single participant.  Whether you are an aspiring writer or published, write fiction, non-fiction, or short stories, all writers are welcome!"
It was so fun to attend the Write-Ins and the Reading Day with fellow enthusiasts of the written word, and look what came out of it!  My essay about working in the Ticktocker Thrift Shop during the holiday season was published in the PVLD Writer's Anthology 2015 which was made available in January of 2016.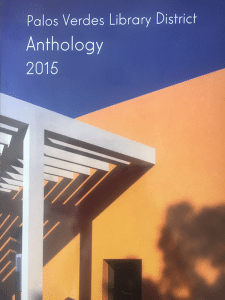 Click to reserve your copy to read at home.
To find out more about programs offered through PVLD, visit the calendar page on their website.