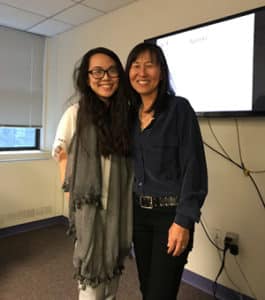 I am eager to tell you about an organization I spoke at last week called Womankind in New York City. Formerly the New York Asian Women's Center, Womankind works with survivors of gender-based violence to help them overcome trauma and heal. 18 Asian languages and dialects are spoken at the office by over 50 staff members who bring critical resources and cultural competency to thousands of families who suffer from domestic violence, sexual violence and human trafficking.
After reading my post on StoryCenter.org about immigration trauma, Kayla Chan, the manager of the Later in Life Program at Womankind, invited me to speak at a staff training. (Kayla is pictured with me here.) Kayla said she had been moved by my family's story, especially how trauma can accumulate across generations. I couldn't believe she had found me on the internet and was inviting me to address such an important organization. I felt passionate about Womankind's mission and agreed to participate.
My task was to present my family's story as a case study of immigration trauma in the Asian-American community, as I had described previously in my blog post. Kayla believed that using my family as an example and discussing historical trauma in general would help the staff to become more effective listeners and advocates for their clients. Since the staff members are themselves diverse, Kayla also wanted the staff to reflect on their own immigration stories as a way of getting to know themselves and their colleagues better.
Ice-Breaker and Discussion
We started the morning meeting with an ice breaker, where a staff member asked the audience to share their earliest memory of a family story.  One Muslim woman talked about how frightened her family had been having to pretend to be Hindu when India and Pakistan separated in 1947. Another woman talked about how her family had been split up during the Korean War, and the anguish they still felt not knowing whether their family members in the north were alive or dead. The room hushed as stories were shared, and the exercise helped create a safe space for promoting conversation among co-workers.
I then spoke about my family's immigration story using my powerpoint and showing the video of my parents in conversation. I acknowledged that my family's history is not very different from their own, and that we all need to look more carefully at trauma, especially the little t's and big T's that may have shaped our w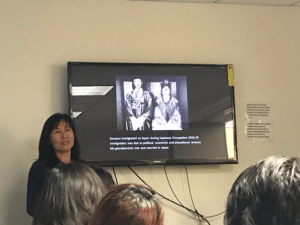 orldview. I emphasized that the words used in the icebreaker like "war," "separation," and "fear," could be trauma words, and that these early family memories inform who we are today.
Kayla went on to talk about historical trauma experienced by Asian Americans, from the plight of the first wave of Chinese laborers in the 1850's to the Japanese Internment a century later. Although she didn't have time to talk about more recent refugees or immigrants, Kayla gave the staff an overview of how historical trauma could play in role when clients reach out for services. She highlighted the importance of looking for connections between past and present trauma, even though they might be subtle and difficult to see. Historical trauma may explain why a client's behavior may initially seem overly passive due to cultural norms, or why someone might be hesitant to provide information because of mistrust of authority.
Role-Play
My favorite part of the day was role-playing. We broke off into language groups and responded to a hypothetical case. In my seven-person Korean language group, we went around the circle and discussed how we would handle a call from an older Korean mother living with her adult son whose neighbor had reported fighting coming from the mother's house. The son supposedly had a mental illness, and there was a possibility of elder abuse, including physical, psychological or financial abuse. We agreed that it was not part of the Korean culture to call for help, especially if there might be mental illness involved, so it would be best to approach it slowly by trying to get the facts first and then following up with possible resources. It was interesting to see varying intake styles and how everyone approached the situation slightly differently.
We ended the training with a delicious Cuban lunch, which seemed like an appropriate meal for such a satisfying morning. I had a fantastic experience learning about Womankind and how meaningful this kind of work could be. Not only did the staff and I learn more about ourselves and each other, we learned to be better listeners because we realized that clients at Womankind were bringing along a host of individual, family and community trauma when accessing services.
I admire everything about Womankind—its bold name, vision, and the generous people I met who work there. I would certainly love to collaborate with Womankind again. It reminded me of when I interned at the Chinatown Legal Clinic in Boston in law school, and it got me to thinking that maybe I will do this kind of work again in the future. For now, it is a great honor to be able to write about Womankind and share it here with you.
What is your earliest memory of your family story? Leave a comment below!