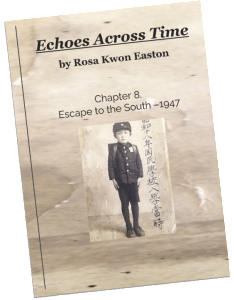 In honor of Mother's Day, I wanted to talk to you about an excerpt from my book, Echoes Across Time, that I offered to my subscribers this week. Told in my father's voice, the chapter describes the harrowing experience he and my grandmother shared escaping through the mountains from North Korea in the aftermath of WWII.
My father learned that his mother would do anything to save him, including hiding illegal chemicals in his canteen to sell later so they would have money to live on, and lying about her identity to ensure their passage to freedom.
I hope you have had a chance to read the excerpt. If you haven't read it yet, click here. When you join my "Journey list" you get instant access to the excerpt.
Think about Your Mother
What shared experience did you have with your mom that changed your life, or your view of her?  I bet there's at least one key activity or event that you'll always remember.
My memorable experience with my mother was her reaction when I told her I got into my dream college and I wanted to go back East. For the first time, she told me she never got to go to her dream college because she had to work to support her family when her father lost his job after the Korean War. She told me she wanted me to soar higher than she had.
My mother convinced my father, who was more practical and thought a local public university was good enough, to let me go to Smith. It changed my life, and I am forever grateful to my mother for that gift.
Share Your Thoughts
I'd love to hear what you thought about my grandmother and father's "escape" story so post a comment below.
I'm equally interested in learning about a memorable experience you had with your mother.  Leave a comment below so everyone see how similar and how different our journeys have been.
Happy Mother's Day!